It's all well and good investing in the best products/service for your business, but this means very little if your customers aren't happily engaging with your business!
Your company should be able to identify whether consumers are satisfied with your level of customer service in order to assess how to keep customers loyal and attract new ones.
(Our previous blog 'What is Customer Happiness?' highlights the difference between whether a customer is happy or just satisfied when engaging with your business!)
4 Signs That You've Got Happy Customers
1. Loyalty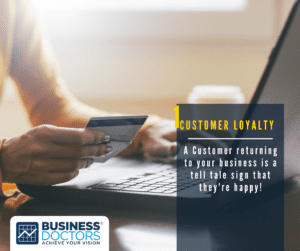 Returning consumers are the hallmark of good customer service! From their first encounter with your business, they've had a good experience that's left a positive impression of your company. Loyalty means a lot in business. Not only are customers choosing to repeatedly invest in you, but they're also selecting you over your competitors. Maybe they simply prefer your products? Or maybe it's your drive for customer gratification influencing their loyalty! This should give your company confidence as well as a measurement of your customers' happiness.
If you're a small e-commerce business or have an online presence that's vital in maintaining your business, you can use platforms such as Google Analytics to track whether your clients are returning to your site.
2. Spreading The Word

In addition to continuously choosing to purchase from your business, loyal customers show their happiness by recommending you to friends and family. An influx of new customers may be down to positive reviews from satisfied consumers. Your new clients may tell you that your company was given the seal of approval by their neighbour, friend, or family member who found your company to be worthy of recommendation!
3. Social Media Activity
Social media can be used to gain a deeper und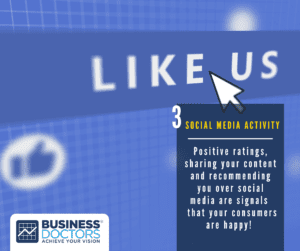 erstanding of customer experiences with your company. From rating your business to judging your level of customer service, consumers often make their opinions known on social media. Facebook is particularly useful when assessing the happiness of your clientele. Users have the option to like your company page, rate it out of five, and share their experience. Customers may want to express their dissatisfaction; Not to worry though, this is an opportunity for you to see what your business needs to improve on and showcase your customer service skills – show potential consumers that you are quick to respond to complaints and that you put your customers' happiness first!
4. Feedback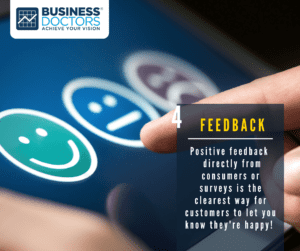 In-app / Online surveys
If your business operates through an app or website, you can offer consumers the option to review their purchase or service with ease. Email prompts offer them the opportunity to do so, with links taking them straight to an online survey. This only takes a few minutes and from the results, you gain needed insight into your customers' feelings towards your company. Review sites like Yelp are another platform for people to share their reviews/feedback online.
Direct Feedback
Probably the easiest and most gratifying way of customers letting you know that they're happy is by telling you themselves. Whether it's in person or a direct message to your business account over social media, first-hand feedback is the clearest way to gain an understanding of your consumers' perspectives.
Final thoughts
Customer happiness is vital for your business. By making customer service a priority, your company is welcoming the opportunity for consumers to loyally choose your business over and over again. Reputation as a business that puts its client's happiness before its own will also help to attract new customers and ultimately increase revenue.
More information
For more information about how we can help your business, get in touch